Sophia Antipolis, CERR 2021
Sophia Antipolis, 15 -- 17 July 2021
For that 6th edition, the theme was "Building Resilience in Retail for the post COVID World – Marketing & Operations Perspectives". This theme enjoyed massive support and 58 submissions have been presented to address such issues.They represent the cutting edge of research in retailing and will spark even further interest in building the necessary knowledge and managerial tools to overcome the effects of this pandemic and prepare firms in retail and logistics for any new event of this kind in the future. The Best Paper award was for David Schmid's paper titled "Retailers' foreign market exits over time: Firm specific behavior or industry specific common patterns?".
Valencia, CERR 2020
Valencia, 31 August -- 2 September 2020
For that 5th edition, the theme was :"The digitalisation of retail with the emphasis on IoT, Big Data, Machine learning, AI, blockchain usage as well as the emergence of new uses and business intelligence tools".
Guildford, CERR 2018
Surrey Business School, 11-13 July 2018
For that edition, the theme was : "Physical and Digital Market Places -- Where marketing meets operations". CERR 2018 focuses on physical/ digital stores, agglomerations and platforms in the context of B2B, B2C as well as C2C. Within this remit, contributions have been in the areas of retail management, marketing, operations and logistics as well as supply chain management. As usual it was organized with the full support of the University of Surrey and sponsored by major retail organizations in the UK.
Toulouse, CERR 201
Toulouse Business School on June 2 -- 4, 2016
For that edition, the theme was :"The store and the Internet of Things: retail operations, marketing and beyond". It was organized with the full backing of Toulouse Business School, Bremen University and the University of Surrey by their representatives Prof. Xavier Brusset, Prof. Herbert Kotzab, and Prof. Chrstoph Teller, respectively. With 54 participants from all over Europe (19 research labs, 31 nationalities), this was the best colloquium so far both in terms of quality of the presentations as well as in the width and breadth of the perspectives and subjects presented. The proceedings were collated and printed in a Book of Proceedings, complete with an ISBN.
The best paper award went to Dr Alan Collins, Department of Food Business and Development, UCC and IAM Council member, for his work with co-author Prof. Richard George which addressed mavens' search beahaviours and assessed implications for store brands.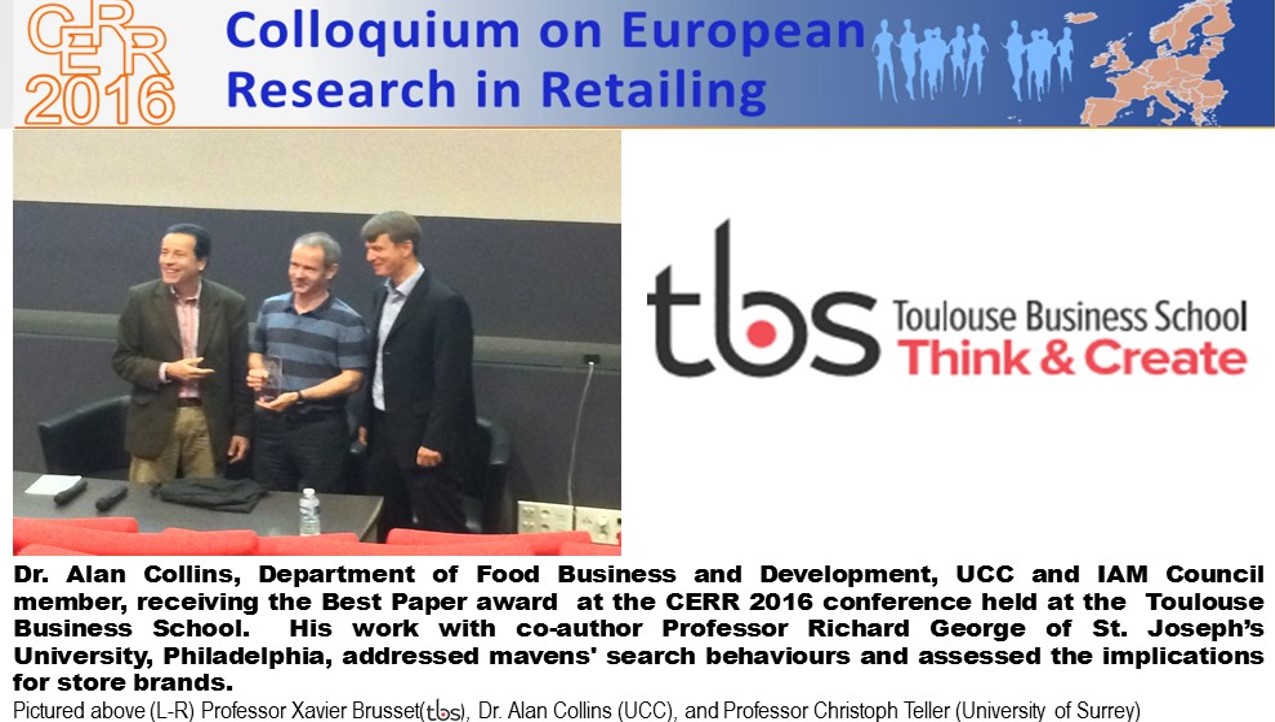 Bremen, CERR 2014
Bremen University on September 25 - 27, 2014.
From September 25th – 27th 2014 was organized in Bremen a colloquium at the initiative of five European scientific research centres. The objective was to bring together scientific researchers on retail issues in Europe so as to share results and insights both managerial and scientific. The following themes among those of particular interest:
Shopper behavior
Retail marketing
Retail strategy
Retail operations
Franchise
Multi-channel
Retail logistics and supply chain management
Supplier relationship management
Contemporary issues in retailing
This conference was held on the premises of the University of Bremen in Germany, facing the urban park of the city.
35 communications were made by researchers from 30 different countries. The majority came from Europe and represented the major trends in research in retailing, marketing of the point of sales, consumer behaviour, logistics, e-commerce. from a methodological standpoint, a wide array of research methodologies were on show: from normative modeling to data-mining, qualitative studies, sctructural equation modeling and time series analysis.
The abstracts were published in a book of abstracts, proceedings of the Colloquium on European Research in Retailing and handed as an electronic file to all participants. This book of abstracts is available upon request by writing to cerr@sciencesconf.org.
Paris, CERR 2012
Paris, June 2012
The first edition of the colloquium on European research in retailing was held in Paris, on the Paris campus of the ESSCA School of Management. The point was to bring together European researchers so that they could share insights into the latest research on topics related to retailing in Europe. The guiding theme was retailing in post-crisis in Europe. Given that the European market is no longer a growing one, to be able to sell, any manufacturer or producer has to satisfy ever more picky and jaded consumers, as well as fighting ever more competition both from Europe and the rest of the world.
At that first edition, 27 communications were made by researchers from 10 different countries representing 21 research labs.
A best paper award was handed to Christophe Bèzes for his work on the effect of channel congruence on a retailer's image.